The Dashain Festival 2021 will be starting from 12th October 2021 in Nepal. This festival is observed by Hindus and Nepalese in almost every other part of the world where they live. Dashain is the longest and most important festival in Nepal. 
Dashain lasts 15 days, beginning with the "bright moon" and ending with the full moon in the Hindu month of Ashwin. It falls in either September or October on the Gregorian calendar, with the exact date fluctuating from year to year due to the discrepancies between a lunar vs a solar-based time-keeping system. During Dashain, many Nepalis businesses and public buildings will be closed, making it difficult for tourists to visit while many Nepali ex-pats travel to Nepal particularly to celebrate Dashain.
This year, Nepal will observe Dashain Festival 2021 starting 12th October until 17th October.
Year
Date
Day
Holiday
2021
12 Oct
Tue

Fulpati

13 Oct
Wed

Maha Ashtami

14 Oct
Thu

Maha Navami

15 Oct
Fri

Vijaya Dashami

16 Oct
Sat

Ekadashi

17 Oct
Sun

Dwadashi
How is Dashain Festival celebrated in Nepal?
Nepali people celebrate Dashain with great zeal.
Homes are meticulously maintained and ornately ornamented. This is a request to the Hindu "mother goddess" to come down and bless the dwelling with good fortune. Distant family members also congregate and enjoy reunions in clean and lovely homes.
At this time of year, many people buy new clothes and wear them. Those who live in extreme poverty dress up in their finest attire and may only buy garments at a few other times of the year outside the festival of Dashain.
Kites are flown as the Dashain festival and celebration approaches. People fly very colourful kites from their rooftops and other locations, yelling "Changa Cheit" anytime the kite lines become entangled.
Temporary bamboo swings are built and set up for youngsters to play on. Adults even pause to try out the swings, which can reach a height of 20 feet. They are dismantled at the culmination of the festivities.
Thousands of animals, including buffalo, rams, and ducks, are sacrificed. They are slaughtered in temples around the nation to please Hindu goddesses. Many people also get up early in the morning and go to temples to worship various gods. 10 days are marked for worshipping ten different goddesses. 
Because Dashain Festival falls shortly after harvest, there is a lot of rice and grain in houses during this time of year. Worshippers brand their foreheads with pigmented, red rice known as "tika." During Dashain Tika on the 10th day, young people receive Tika, Jamara and Dakshina from the elders of the family. 
Why is the Dashain celebrated?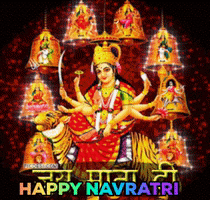 According to Hindu mythology, the Dashain celebration commemorates victory over an evil demon. The celebration began when the goddess Durga slew an evil-spirited demon named "Mahisasur," who spread dread and fear. This monster was slain by the Goddess Durga in a multi-day battle. Her victory against the devil also represents the fact that evil cannot prevail and must always be defeated.
The first nine days depict the ongoing struggle between evil and moderation. And after nine days of the relentless struggle between vice and virtue, goddess Durga ultimately defeated the demons and bad spirits.
Aside from Goddess Durga's magnificent triumph, the festival also celebrates God Ram's victory over the evil Ravan with Goddess Durga's favour.
As a result of its significance, Hindus from all over the world lavishly observe this holiday. It is also a celebration of truth, which always triumphs over evil and deception.
Want to read more on Hindu Festivals? We have dedicated blog posts.
If you are interested in customized merch for festivals, even stickers, canvases and phone cases, give us a nudge. 
You can also reach out DfwImpression for amazing Dashain themed T-shirts or custom printed T-shirts if you have your own designs.